Remember to add 011-44 when calling from the U.S. to the phone numbers below.  Prices in London tend to be very high.  Think New York City in dollars for restaurants, taxis and hotel/apartments, except that the prices in London are in pounds (or about double NYC rates on equivalent costs).  Yes, London may be the most expensive city in the world today, although the pound has gone down sharply against the dollar and euro recently, so you might not feel it as much.
Daquise Restaurant (Polish) 20 Thurloe St, right by South Kensington station 0207-589-6117.  By London standards, cheap and very good food, with cute young Polish women for waitresses; had been burned out, but has reopened; look out for the Polish beer, which is very high in alcohol; near Christie's South Kensington auction rooms. My own preference is for the beef goulash and potato pancake or the stuffed cabbage.
La Petite Maison, 54 Brooks Mews, London W1Y 2NY, 020-7495-4774. High level French.  Somewhat expensive, but not by London standards, and the food and service warrant the prices; near to Sotheby's on New Bond Street.  Replaced my favorite Italian restaurant in London, but kept its address and phone number.
Ciao Bella!, 86-90 Lamb's Conduit Street (off Guildford Place), London WC1N 3LZ, 020 7242 4119. (Felice is the owner and a nice guy; excellent Italian--more southern style.  Prices moderate by London standards.) The pasta and seafood is my favorite here, along with an especially good Italian wine list. Let Felice guide you on the wine. You won't be disappointed.
Imperial China, White Bear Yard, 25a Lisle St, London, 02077343388, mail@imperial-china.co.uk Very good dim sum, etc., not cheap Chinese, but then very good; in Chinatown area.
Fairuz, 3 Blandford St, London, 02 7486 8108 or 8182..  Reasonable, great Lebanese cuisine, but a small restaurant and reservations are called for; located off Marylebourne High St.
La Poule au Pot, 231 Ebury Street, London SW1W 8UT, 020-7730-7763.  Decent French, but often crowded and noisy.  Food is classic but good.
Mr. Kung Restaurant, 21 Lisle St, London 0171 437 7341 (also: 9679).  Apparently now closed. A photo dealer favorite, cheap and good, family style restaurant in Chinatown area).
Malabar Junction Restaurant, 107 Great Russell St, London WC1B 3NA, 0207-580-5230. Authentic South Indian cuisine.
Green's Restaurant and Oyster Bar, 36 Duke Street, London, SW1Y 6DF, 871 4260350.  Clubby type atmosphere, very pricey, but very good, if very traditional; heavy emphasis on fish as you might expect, but also excellent meat and fowl dishes; around the corner from Christie's King Street auction rooms. The smoked haddock 'Parker Bowles' is very good, and so is the lobster salad (but at a very steep £39.00!).
Sotheby's Cafe, 34-35 New Bond Street, London W1A 2AA, 0207-293-5077. Open for breakfast, lunch and afternoon tea. Located inside Sotheby's auction house, this central location is in London's fashionable Mayfair neighborhood. The food, while not strictly a bargain, is usually quite good by London standards. Service can be spotty, especially during busy periods. Try the lobster club sandwich. Serena Sutcliffe, the head of Sotheby's wine department, has drawn up the short but decent wine list. Reservations are often needed, especially during auctions. Often crowded, but convenient.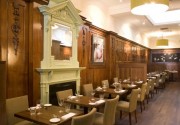 Wild Honey, 12 St George Street, London, W1S 2FB, 020 7758 9160. As London pricing goes, this isn't too bad for the quality. The kitchen is incredibly slow though (and from individual reviews our experience was not unique). Service is pleasant but not the most competent that I have experienced at this pricing level. Lots of unusual and interesting combinations. About 25 white and 25 red wine selections by both the glass and bottle. The wine list is decent, but the prices are typically higher than they should be, which is a fact of life in London. This is an incredibly crowded restaurant and reservations are really a must (and still expect a further wait). There is a prix-fixed lunch that might be worth trying.
Novak has over 42 years experience in the photography-collecting arena. He is a long-time member and formally board member of the Daguerreian Society, and, when it was still functioning, he was a member of the American Historical Photographic Society. He organized the 2016 19th-century Photography Show and Conference for the Daguerreian Society. He is also a long-time member of the Association of International Photography Art Dealers. Novak has been a member of the board of the nonprofit Photo Review, which publishes both the Photo Review and the Photograph Collector, and is currently on the Photo Review's advisory board. He was a founding member of the Getty Museum Photography Council. He is author of French 19th-Century Master Photographers: Life into Art.
Novak has had photography articles and columns published in several newspapers, the American Photographic Historical Society newsletter, the Photograph Collector and the Daguerreian Society newsletter. He writes and publishes the E-Photo Newsletter, the largest circulation newsletter in the field. Novak is also president and owner of Contemporary Works/Vintage Works, a private photography dealer, which sells by appointment and at exhibit shows, such as AIPAD New York and Miami, Art Chicago, Classic Photography LA, Photo LA, Paris Photo, The 19th-century Photography Show, etc.