Photo London overview. (Photo by Graham Carlow)
"Set to be the strongest yet," declared Candlestar, the promoter of Photo London in advance of the fair's fifth edition. The fair has had a bumpy ride to say the least. The words "mixed sales" have been the common denominator in my previous reports and this year was no exception. For some it was the best fair yet, for others comparable and for some it just didn't work at all. Establishing a new, big photography fair in London was never going to be easy. The market for photography has always been precarious in the UK, relying heavily on foreign buyers, especially in the classic end of the market. And any new fair will initially have to rely on domestic buyers.
To some observers it seemed that Candlestar had sailed into an almost perfect storm. In addition to a small collector base, fair fatigue has spread not only in the photography world, but also in the art world as a whole. Then there was Brexit and then there was Trump. One photographer I met at the fair had experienced another reason for the slowdown, "Immediately after the financial crisis, many of the collectors I dealt with were short of money. And when they eventually had money in their pockets again, they had somehow ditched their collecting habits."
Several big players have come and gone, including Weinstein Hammons Gallery, Edwynn Houk, Fahey/Klein, Hans P. Kraus Jr., Hamiltons and Alison Jacques. And filling empty stands can be a risky business, as last year proved. Iconic Images, a London based agency specializing in music, fashion and celebrity photography, had taken a big stand in the pavilion, plus one on the first floor. While nobody wanted to go on record, other exhibitors were appalled. Not just because of the images, but what they perceived as shoddy installations. As one of them said to me, "It's supposed to be an art fair and that just looks like a cheap poster shop". For one big player, that was the last straw and the deciding factor in pulling out of the fair he told me. According to one rumor, and I stress rumor, a number of exhibitors only signed up this year on condition they didn't come back. Well, they weren't there this year.
Photo London is certainly successful in terms of attendance, and this year saw a record 42,500 people visiting the fair. The organization is first-rate, according to the exhibitors I spoke to, and there is helpful, friendly staff everywhere. Still, something more is evidently needed. Candlestar reached the same conclusion and some three weeks before the fair, it was announced that Roderick van der Lee would take up the post as director of Photo London. Van der Lee is a founder of the Unseen Photo Fair in Amsterdam and took up his post on May 20th.
Somerset House remains a challenge. It's a beautiful building, but its myriad of rooms and levels means that it's very easy to miss something.
I always enjoy the public program at Photo London, way more than I do at Paris Photo. Partly because the latter now has so many exhibitors that it's difficult to find the time to take in anything else. This year's program included several interesting exhibitions, Vivian Maier, presented by Howard Greenberg Gallery; "Carbon Casualties", images by Josh Haner of The New York Times; "The Essential Fenton", presented by Robert Hershkowitz; and Stephen Shore, this year's Photo London Master of Photography.
So how did the exhibitors fare? I started off on the first floor of the main building. Flowers Gallery has shown at Photo London since the inaugural edition and has consistently kept a high standard. This year was no exception, with works by Edward Burtynsky, Boomoon and Tom Lovelace.
I was particularly impressed with a selection of images by Edmund Clark. Hannah Hughes told me, "The images are a small group from his series "My Shadow's Reflection", made at Grendon Prison, which is Europe's only wholly therapeutic prison. You can see the architecture of the building, images of pressed flowers taken from the grounds of the prison, portraits of the inmates, made with a pinhole camera with very long exposures. The entire rehabilitation process at the prison is done through psychotherapy. Edmund has been doing work with the inmates; his is in response to their work. It's part of a much wider body of work, about the unseen forces that control war and the war on terror. This is another strand, looking at incarceration."
Sales had been good and consistent, Hughes told me, "It's been going really well. There has been a good buzz this year. We have sold about the same as in previous years. We are based in London and New York but our two main galleries are here and that really helps."
Hughes told me that she was looking forward to working with Photo London's new artistic director, Roderick van der Lee. "I think it's a very exciting development. We have shown at Unseen in Amsterdam for a number of years now and will do so again in September, so we already have a great relationship. It's always interesting when new people come in with a new vision. Photo London has evolved a lot since it started, and that's what makes it an exciting and dynamic fair."
Over the last 10 years I have seen quite a few examples of photographers turning photographs into three dimensional objects by cutting into prints, bending the cut sections at an angle or adding layers of cut prints on top of one another. I usually find these efforts to be sweet nothings, empty of intellectual and emotional content. But Inda Gallery of Budapest showed examples that I found truly remarkable: two works by Marianne Csaky from her series Time Tunnel, images made in the homely, unglamorous setting of her own home. With cut-outs of silhouettes, one of a mysterious visitor and her herself, their shapes frozen in a series of movements as he leaves, the other as he arrives. These two works had more than a few resonances for me, such as Joseph Conrad's assertion that we can never truly know ourselves, as well as the opening lines in John Berger's book Ways of Seeing, published 1972: "The relation between what we see and what we know is never settled."
Other visitors were clearly gripped too. There were fine works on the other walls as well, by Gigi Scaria, Philip Pocock and George Legrady. Gallery director Dániel Ongjerth told me, "This is the first time we have exhibited at Photo London. Our gallery was founded in 2006. We are an art gallery, and our artists work in a variety of mediums. Last year we did Paris Photo and that's what got us thinking about photo fairs.
I asked Ongjerth how the fair had been sales-wise. He responded, "I'm pleased to say that we have had a lot of offers but it's always a dance at fairs when you show for the first time. We have had a lot interest from the media as well and from curators, not only British but also from Europe and the US, so that's been great"
Helen Bellefeuille and Daniel Gagnon of Galerie de Bellefeuille (Photo by Michael Diemar)
Further down the hall, Galerie de Bellefeuille, based in Montréal and Toronto, showed a magnificent solo presentation of large-size works by T.M. Glass. She had paired flora from renowned gardens, including England's Royal Lodge, India's Rambagh Palace, and Quebec's Jardin de Metis, with historic vessels from museums and distinguished collections, using a combination of photography and painting.
Director Helen Bellefeuille told me, "We have done a lot of fairs in North America. We heard about Photo London from one our artists. He had visited the fair and had a very good experience, but we had never come personally. We decided that it would be a good to focus on T. M. Glass. Her work is quite unique. It's a bridge between photography and classic paintings, using new techniques. So there was a beautiful body of work to show."
For Bellefeuille, the fair had been a great experience, "I'm very impressed with the building, it's simply phenomenal. The organization has been superb. The key representatives have all been perfect. So we are already thinking about next year's fair. Sales have been quite good and we are shipping works to Hong Kong, Switzerland and Belgium. We have made new contacts and there are many things in the fire, so we are very pleased."
Not everyone here was willing to be interviewed for the newsletter. Some galleries have a policy of not commenting on industry matters. In some cases, the directors had already left or hadn't even turned up for the fair, and their members of staff weren't allowed to speak on their behalf. Such was the case at RosioSantaCruz, where I was very impressed with some vintage prints by German Lorca and Marcel Giró.
Ben Burdett of Atlas Gallery in front of Nick Brandt's new color work. (Photo by Michael Diemar)
Atlas Gallery had paired Ansel Adams and Nick Brandt. Director Ben Burdett told me, "There is a very strong link between them. Both were pioneering conservationists. Nick's work is very different but he pays very high attention to his craft, just as Adams did with his. We are trying to convey the conservation movement in photography, the activist photographer."
Brandt established his career with monochrome portraits of animals in Africa. In 2016, he launched "Inherit The Dust", which saw him take a new direction, beautiful but harrowing images showing just how threatened the animals' habitats are and how the situation is deteriorating at an alarming rate. The new project, This Empty World, is yet a further departure for Brandt as it's shot in color. It was made on Maasai land in Kenya, where Brandt photographed indigenous animals in their natural habitat. Almost always keeping the camera in the exact same position, he then built temporary urban structures in the same location, a highway flyover, a petrol station, re-photographing the transformed space. Brandt combined the two images in post-production, composing dramatic scenes that confront urgent environmental issues, such as the scarcity of resources.
Burdett told me, "Nick was quite nervous about venturing into color but because of the nature of what the project was about and because it had to be shot at night, it had to be in color. Single images have been shown at a few other fairs but this is first time a larger group has been shown, this is about a third of the images."
Brandt told me a while back that some collectors had been a bit shocked by "Inherit The Dust". I asked Burdett how he had fared with these two projects? "They have been extremely successful although not necessarily with the same group of buyers. This is more conceptual work. Some have followed Nick and bought from all the projects. Others have remained focused on the earlier work and there's a large, new group who have found this work more interesting than the portraits, people who have never noticed his work before. Sales have been superb here, extremely strong. Plus, we have sold work that we haven't even brought to the fair, so we are really pleased."
Giles Huxley-Parlour (Photo by Michael Diemar)
I continued at Huxley-Parlor Gallery. The large booth was absolutely packed with visitors every time I stopped by. Giles Huxley-Parlour told me, "This year, we have brought photographers who have done projects on one particular subject, Todd Hido, Joel Sternfeld, Zhang Kechun, Olaf Otto Becker and others. We want to show that long-term projects can reveal greater insights into subject matter than shorter ones."
Sales had been moderate, Huxley-Parlor told me, "The fair has been very, very busy. We have had great conversations and a few sales, mainly works by Olaf Otto Becker. It hasn't been as commercially successful as we had hoped but hopefully some people will get back to us after the fair to buy. I have felt that there have been more potential collectors that have come through than in previous years. I have spoken to a lot of people who owned prints. I think Photo London needs to do a better job of getting people who come to the fair with the idea that they are going to buy something. There's something about the festival aspect of Photo London that makes people come to enjoy photography, have a nice day out and then go home. And I don't know how they can make that shift. Perhaps the new artistic director will be able to turn it around because he's made a great success of Unseen in Amsterdam. Generally, I think people have enjoyed the fair this year a whole lot more than they thought they would. A few I have spoken to haven't made sales, but most have sold at least a few things."
Robert Mann Gallery had barely even done that. Mann told me, "It's the first time we've done the fair and it hasn't gone swimmingly for us. Sometimes these things work, sometimes they don't. But it's not a fabulous experience for us. I don't know what to chalk it up to. We brought all the right stuff, including works by two photographers, Julie Blackmon and Paulette Tavormina. We sell volumes of both at every other art fair we do. And we haven't sold a single piece by either here."
Mann continued, "I did the first Photo London, the one organized by Danny Newburg, some 15 years ago at The Museum of Mankind behind The Royal Academy. It was a giant failure. So I held out when this new one was started up. Candlestar has approached us every year, and it seems the fair has gotten successively better. It is extremely well organized. And Somerset House is a challenging building but they have done an extraordinary job in terms of layout, mapping and signage, which I don't remember from The Museum of Mankind. In fact, that was so confusing there that I couldn't find my way back to the booth. I wanted to avoid any of that so I came on condition that we would be here in the pavilion. Location wise this is the place to be. It can't be missed. And here I am. I don't know if I'm coming back. It certainly wouldn't be based on how much business we have done, and I haven't looked into the crystal ball yet."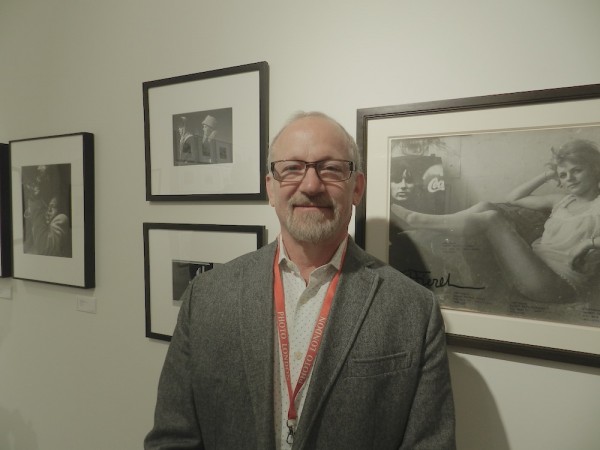 Robert Mann (Photo Michael Diemar)
I never go looking for "The best piece in the fair", but sometimes something just grabs you and says, 'Here I am!" And there it was, on Robert Mann's stand, a small print by Frederick Evans and a very unusual one. Mann told me "It's as far as it can be from his views of cathedrals and abbeys." It's a picture of his daughter's doll, in a very strange position, on its back, legs angled upwards, on the bed. It's on a typical Evans mount, signed and stamped—a truly unique piece.
Tokyo based Akio Nagasawa Gallery had learnt to make adjustments for the London audience. Akio Nagasawa told me, "This a different audience from the one we meet at Paris Photo, less knowledgeable and not so familiar with Japanese photography. So we decided to bring the masters, mixed with emerging photographers that we thought might interest people here. That has been a success and we have done better than last year. It's a good fair but overall, I think the quality of the exhibitors could be improved. And that's a big difference between Paris Photo and Photo London. Still, we have sold Daido Moriyama, images from the 1980's, printed large format this year. Plus vintage prints from the 1970's by Issei Suda. We also brought emerging artists last year and the collectors who bought then came back this year, which was very encouraging."
Leica Gallery had landed the premier spot in the pavilion, right inside the entrance. Lou Proud told me, "We are showing works by Ralph Gibson, made between 1960 and 1970. These images were taken in Ralph's formative years He was introduced to his first Leica in 1961 by his tutor at art school and has used a Leica ever since. The selection shows the progression he made and then the move towards the more surreal dream-like state that he portrayed later on. After meeting Robert Frank he realised there was a whole new photography world out there, and he stopped wanting to be a photojournalist and began to focus on detail and abstracting the image."
The work had been well received. Proud told me, "Time and time again people have said that they loved the work. It was a good solid introduction to the fair and somewhat reassuring to see good black and white, yet slightly unknown images as soon as you arrived at the fair. This kind of photography only ingrains deeper and deeper. It's not about surface but stays and grows in your memory."
I asked Proud about sales, "We had no wild expectations and sales have been steady but not spectacular. With regards to the fair overall, there has been a great atmosphere, a lot of visitors and much enthusiasm. I like that the whole history of photography has been embraced one way or the other. But I think Photo London needs new collectors and new blood visiting and buying."
There were some impressive works on offer here and there in the East Wing of the main building. Paris-based Galerie Sophie Scheidecker had a magnificent group of Erwin Blumenfeld prints; and, close by, London-based Large Glass, showed works by Hannah Collins and Mark Ruwedel. Both artists draw on the tension that lies between documentary and conceptual photography, and they share a fascination with the influential American photographer Walker Evans.
Jane England of England & Co. (Photo by Michael Diemar)
But what draw me back again and again to the East Wing was England & Co.'s stand. There a few examples of classic photography, but the emphasis was on experimental works from the 1960s and 70s.
Jane England told, " My idea was to continue what we have doing four the last four years at Photo London, photography related to performance art and conceptualism from the 1960s and 70s. And I decided to hang it as a sort cabinet room. I brought quite a few women photographers, Susan Hiller, Tina Keane, Anne Bean, Cecilia Vicuna and others. I also wanted to show that the notion of "the personal is political" did not only apply to women but also to quite a few men as well. Michael Druks works as a painter these days, but he became quite famous during the 70s for his photographs, films and performances using the television screen, and I have used a selection of images to form the centerpiece of the cabinet. In addition, I brought works by Bill Brandt, Diane Arbus and Helmut Newton as well. We have sold quite well. We have a few things on hold for museums, and there are usually a few things that sell afterwards, so we are quite happy."
As in previous years, most of the vintage dealers and galleries exhibited in the West Wing. I was more than a little concerned at the beginning of the year when I heard that Lindsey Stewart and Johanna Skeels had left Bernard Quaritch. Their stand may have been small, but it was always exquisite, and, for me, somehow the soul of the West Wing. Well, in January the pair decided to strike out on their own as Stewart & Skeels, and were back at Photo London, I'm pleased to say. Stewart told me, "We plan to operate privately and by appointment, wherever it suits our clients. We also plan to show at a selection of fairs, some more oriented towards the antiquarian book world, as well as photography fairs."
Lindsey Stewart and Johanna Skeels (Photo by Michael Diemar)
On display was a selection of photographs from the 1840s to the 1950s showing the range of colors in print processes and methods of achieving colour during the first 100 plus years of the medium, plus work by Hill & Adamson, Roger Fenton, Roger Mayne and Mike Seaborne. Stewart told me, "We sold a number of our earliest works, including hand-tinted daguerreotypes as well as London photographs by our one contemporary photographer, Mike Seaborne, among a selection of other photographs."
Stewart and I had an interesting discussion concerning recruitment of new, young collectors to the 19th-century market. I suggested that many in the existing markets, old hands as it were, tend to forget that cased images or cyanotypes in the mid-range tend be dismissed as "boring", "seen it a thousand times" but represent something completely new, unknown and exciting for many people in their 20s and 30s. And therefore new strategies would be needed to attract them.
Stewart commented, "We sold to some new--to us that is--younger collectors who responded to the individual items we showed and were keen to know more about things they had perhaps heard of, but never seen before. Making items accessible and visually appealing and including information, and I think prices, helps people to imagine them in their own environment and make a decision to purchase something, either among their first items in their collection, or a new subject for them. I think people also feel more confident if they have the price info up front--not just to know what a specific items costs, but to see what influences value, to understand how the market works, and gauge what and how they might collect. And of course having a range of prices for our photographs was possibly a factor in selling to some younger collectors."
Johannes Faber (Photo by Michael Diemar)
As far as I know, Johannes Faber still holds the record for achieving the highest price for a single work sold at Photo London, set in 2017 when he sold "Bewegung" by Rudolf Koppitz for 360,000 euros. Faber didn't reach those heights this year, but there were impressive works on display. Faber told me, "We brought a broad selection of Austrian, Czech photography, Heinrich Kühn, Rudolf Koppitz and Josef Sudek, as well as international classic photographers, Brassaï, Lucien Clergue, Horst, and a wonderful contact sheet by Irving Penn from the shoot of the famous image of a model with chicken head, as well as the British photographers, Cecil Beaton and Norman Parkinson."
And there was an extraordinary group of contact prints by André Kertész, one of the highlights of the fair this year, I thought. Faber told me, "These are 4 x 5 contact prints from his Distortions series which he made in 1933. Then came the war. The book of the series wasn't printed until end of the 40's and at that time he made contact prints of them, marked them in red pencil where he was going to crop them and they are fascinating, not least because in some you see details of the studio environment, the frame of the fun house mirror he used, in one you see Kertész in the mirror, in another, his tripod. So a very interesting group."
Sales had been moderate, Faber said. "It hasn't been as good as previous years, but still I'm quite happy. I sold two of the Kertész prints, a Sudek, a Beaton and a few other things. It could be more but it's okay. I generally do better at Paris Photo. Photo London is still very important but there is less classic photography here. Hamiltons didn't come back to the fair, and some collectors I had hoped to see didn't come. I have seen some curators, but mostly British."
I stopped by Peter Fetterman's stand across the hall. Michael Hulett told me, "We have brought a mix of our stable of classic, humanist photography, Sabine Weiss, Salgado, Cornell Capa, Cartier-Bresson and Wolfgang Suchitzky, but also some contemporary work that we have never shown here before, such as Flor Garduno, one of the most significant artists to have come out of Mexico, and our new star, the Hungarian photographers Noell Ozwald and Penttti Sammallahti, who are very successful wherever we show them."
I asked Hulett about sales, and he responded, "It's been going really well this year. Every day has been steady, with quality collectors coming through, and the sum total has been better than previous years. Mostly European collectors, no Americans at all; but we have met Chinese collectors, and it was great coming here and reaching that market."
Roland Belgrave, the master of his domain. (Photo by Michael Diemar)
Roland Belgrave has what must be the most awkward space in the whole fair, at the end of the corridor of the West Wing, with a curved wall at the back. And yet he manages to perform miracles with the space. Last year he pretty much stole the show by displaying a 19th-century French photographer's cart. This year, his stand was devoted to three installations of images on the theme of the environment. Belgrave told me, "The subject is very close to my heart, but it's difficult to communicate with 19th century. I came across this artist Inga Lisa Middleton, who works with marine biologists. They have discovered micro plastics in phytoplankton, the smallest organisms in the oceans. They began working with this Icelandic photographer, and she made cyanotypes of some of the images. It's a set of 16 images, in an edition of 8. One sold on the first day, one is on reserve and I have very strong interest from two curators, one French, one Swiss, who are focused on photographers working with scientists. On the opposite wall, I am showing two works by Ian van Coller of Montezuma, Colombia and I have sold both."
Sales had been exceptional for Belgrave, "This has been my best Photo London ever. I also sold a Roger Fenton archive, 58 images of Crimea, plus quite a few other things, including two negatives by Dr. John Murray."
There was more Murray material on offer, but still not sold as the last day drew to its close. It was three-part positive-negative of Taj Mahal. The positives were on the light side but there aren't that many of these in existence, never mind on the market.
On to Robert and Paula Hershkowitz's stand. And it turned out this had been their most successful Photo London for them ever.
Paula and Robert Hershkowitz (Photo by Michael Diemar)
Robert Hershkowitz told me, "We sold a fantastic Charles L.Weed, a Julia Margaret Cameron, a Duchenne de Bologne, a small Nègre, an anonymous positive- negative, several Emerson gravures, and the racks were very successful. Racks are not allowed at Paris Photo but they are at Photo London, and we sold 13 pieces from them. The prints in the racks offer the chance for people with very little money to buy a great photograph. And that's very important to us. One of the buyers, a young actor, couldn't afford a print for 300 pounds but he could afford to pay 200 pounds. He really, really loves photography, and I hope he becomes one of the big money-making actors in the next ten years, so he can continue to buy."
In addition to their stand, Robert Hershkowitz participated in the public program with his exhibition "The Essential Fenton".
Hand-on-heart, when was the last time that you witnessed a heated debate about aesthetics in 19th-century photography at a fair? Usually, they barely rise above comments like "incredible tones", "boring image" and "not as good as the one at the Met". But "The Essential Fenton" really got people talking and arguing. The exhibition, dedicated to Hershkowitz's mentor, the inspirational Sam Wagstaff, was a deeply personal take on Roger Fenton's images. It was very different from previous Fenton exhibitions in that it didn't present his career in terms of chronology and subject.
I interviewed Hershkowitz for the first issue of the magazine The Classic and he described his way of looking at and thinking about Fenton's images over 40 years. "Cottage overlooking the Dnieper, Kiev", 185, was a sort of portal into this, Hershkowitz explained. He elaborated, "The image of the cottage is divided into two nearly identical shapes, which suggests a Yin-Yang relationship--an architectural equivalent of Blake's "grain of sand."
Hershkowitz asserted that Fenton "saw more than he could see," that Fenton himself didn't fully know as "knowing means using language and the language to understand these things simply wasn't in the Victorian aesthetic vocabulary. Hershkowitz discussed the duality of secular and sacred light in "Wells Cathedral" and other images and pointed to "dominant lines" and "auxiliary lines" in other images. That Fenton trimmed a large number of prints to a square format or nearly a square format. "He's the only British or French photographer who did this." And that "a huge number of his prints have an arched top. It's not unique to him but what is unique is the extent to which he does it." Furthermore, "to a singular degree, triangles frequently feature as either a compositional element or motif within the image." and that "many of his most telling images are simultaneously totally accessible, while also being seriously elusive."
There was no shortage of opinions about all this. Some found the exhibition to be "a revelation" and "the best thing at Photo London this year". Other voices were more critical, "There is absolutely no art historical foundation for the exhibition, as Fenton didn't put any of this into writing". Others thought that some of the arguments were "a vain attempt to portray Fenton as some kind of a proto-modernist". And, no, Fenton didn't put any of it into writing, which was part of the argument that Hershkowitz put forward. I have met quite a few photographers over the years who have told me that they only grasped the true personal significance of their images much later. I doubt anyone would bat an eyelid at such a statement from a living photographer. Why should we not allow it in 19th-century photography? As for Modernism? Well, there are quite a few proto-modernist images in the early history of the medium, by Girault de Prangey, J. B. Greene, August Salzmann and others. And as somebody pointed out, "How can we not look at these images with modern eyes?"
With all this in mind, I walked around the exhibition again. I suspect that Fenton, as a Christian, might have been aware of the duality of secular and sacred light in these images. Let's, for the sake of argument, say that he saw the ying-yang relationship in the Russian cottage but couldn't say it in words. And that some of the other theories are merely the curator's interpretations. Does that make them less valid?
Over the years, I have seen quite a few "trophy collections". A vast amount of money spent on the right names, their most desired images, and usually accompanied by a fair amount of bragging. Sometimes I haven't been able to resist but have asked, "Yes, but what do these images mean to you?" And often I have been met with a completely blank expression. Because these collections were only put together according to how the world judged these images.
Michael Hulett of Peter Fetterman Gallery (Photo by Michael Diemar)
This exhibition is the very opposite. I, for one, welcome it. And anyone needing a theoretical justification could look to the Vienna School of Art Criticism, "The Beholder's Involvement", brought forward over 100 years ago by Alois Riegl, later expanded by Ernst Kris and then by Ernst Gombrich as "The Beholder's Share", its central idea being that art is incomplete without the perceptual and emotional involvement of the viewer. The theory has been expanded further in more recent years, by Eric Kandel, neuroscientist, art collector and winner of the Nobel Prize in 2000, in his book, "The Age of Insight: The Quest to Understand the Unconscious in Art, Mind, and Brain, from Vienna 1900 to the Present" (2012).
Walking around the exhibition, it struck me that this was the first time I had seen a Fenton show in an intimate setting, with a low ceiling, as opposed to grand rooms in a major museum and it certainly made a difference. The juxtaposition of images, landscapes with portraits and the captions, all giving food for thought, such as "The Queen's Target--Print trimmed to a square--flat as Jasper Johns' Flag or Target".
My one criticism is that the central arguments should have been displayed on a series of wall texts. But an exhibition that produces so much argument is certainly welcome, and, for many, "The Essential Fenton" was the highpoint of Photo London.
Well, we will see what changes Roderick van der Lee will make to the fair. One way or another, Photo London needs the stability that has eluded it so far. And hovering above the fair is Brexit. A few days before I put the finishing lines to this report, a tearful Theresa May announced that she would resign as prime minister. A few days later, the hastily assembled Brexit Party under Nigel Farage won the majority of votes in the European elections.
The uncertainty surrounding Brexit is causing major problems for the trade. In an article published in the May edition of The Art Newspaper, Michael Hoppen said, "Brexit will have huge implications for our tax status and for importing and exporting works." He continued, "We have trucked all our European works into holdings on the continent to make sure it's movable without any ridiculous restrictions on tariffs. The shifting deadline now means we're having to look at the prospect of delaying our big gallery shows. What I am supposed to do? Shut down until these guys have sorted it out? We're all subject to an appalling lack of direction and leadership."
Sadly, it's the story of our times.
The sixth edition of Photo London will take place May 14-17, 2020.
Michael Diemar is a London-based collector and consultant. He is also editor-in-chief of The Classic, a new free magazine about classic photography. He is a long-time writer about the photography scene, writing extensively for several Scandinavian photography publications, as well as for the E-Photo Newsletter and I Photo Central.