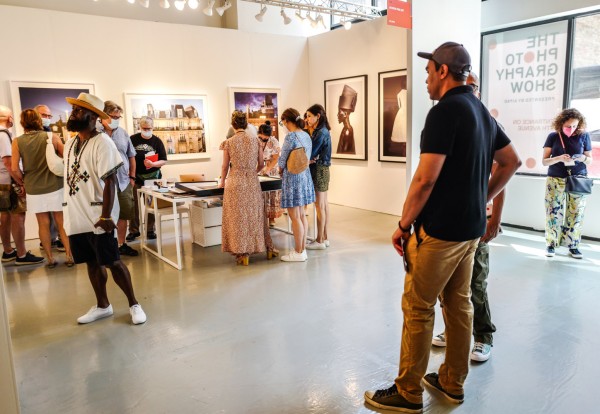 A view of last year's The Photography Show. (Photograph courtesy of AIPAD and Francesca Magnani, photographer)
The following special events are scheduled for AIPAD's The Photography Show at Center415 (located on Fifth Avenue between 37th and 38th streets) in New York City.
Events at Show:
Thursday, March 30
VIP Opening.
Noon–8p.m.
Bars open at 4:30pm
AIPAD Award Ceremony at 5:30pm in the Fritz Hansen Window Lounge.
VIP and Wine Partner "The Mascot" will be served.
Please contact vip@aipad.com if you have not received your Member's VIP Pass or need assistance.

Friday, March 31
5–7p.m.
Young Collectors Night presented with Bonhams.
Wine & conversation with young patrons from New York cultural institutions.
Sunday, April 2
11a.m.
Scavenger Hunt for Children of VIP Invitees.
Hour-long activity for the youngest of collectors!

AIPAD Talks Program (See below for details)
Held with MUUS Collection in Booth 200
Presented by AIPAD Education Committee and our partners:
Friday, March 31
1 p.m.
Curating Photography at the Rijksmuseum in Amsterdam.
Speakers:
Mattie Boom, Curator of Photography, Rijksmuseum.
Hans Rooseboom, Curator of Photography, Rijksmuseum.
Moderator: Jean Dykstra, editor, Photograph Magazine.
The photography curators discuss their recent projects and upcoming exhibitions at the Rijksmuseum in Amsterdam.
Friday, March 31
3 p.m.
Hip Hop: Conscious, Unconscious.
Speakers:
Sam Balaban, Multimedia Artist, Photographer, and Director.
Janette Beckman, Photographer.
T. Eric Monroe, Photographer.
Sally Berman, co-curator of Hip Hop: Conscious, Unconscious.
Nick Fahey, Director, Fahey/Klein Gallery, member of Board of Directors, AIPAD.
Meredith Breech, Exhibitions Manager Fotografiska.
Hip Hop: Conscious, Unconscious, which is on view at Fotografiska through May 20, amplifies the individual creatives involved in the movement. The exhibition also surveys the women who trail blazed amid hip-hop's male-dominated environment, hip-hop's regional and stylistic diversity, and the turning point when hip-hop became a billion-dollar industry that continues to mint global household names. The exhibition was created in partnership with Mass Appeal.
Saturday, April 1
1 p.m.
The Joy of Collecting: A Conversation Between W. M. Hunt and John Bennette.
Speakers:
John A. Bennette, Collector, editor, curator.
W.M. Hunt, Collector, curator, consultant.
John A. Bennette and W.M. Hunt initially spoke at AIPAD in 1996. They will come together again and talk some more about photography and what's been going on the past 27 years. They are both fierce advocates for talent, and they love talking about pictures and spreading the gospel of collecting.
Saturday, April 1
3 p.m.
Adger Cowans and Halima Taha: Inside Out.
Speakers:
Adger Cowans, Photographer.
Halima Taha, Curator and author.
Introduction by Arnika Dawkins, Arnika Dawkins Gallery, Chair of AIPAD Education Committee
A conversation with Adger Cowans, photographer, and Halima Taha, curator and author of Collecting African American Art: Works on Paper and Canvas. This discourse explores the impact of the sum of Adger Cowans' experiences as a fine art, movie still photographer, painter, and musician on his aesthetic view about the relationship between life and art.
Sunday, April 2
1 p.m.
The Formation of the MUUS Collection.
Participants:
Michael W. Sonnenfeldt, Founder of MUUS Collection.
Richard Grosbard, Advisor to MUUS Collection.
An in-depth discussion about the building of MUUS Collection and its aim to uplift the legacies of under-appreciated artists.
Sunday, April 2
3 p.m.
New York Now: Home.
Speakers:
Thea Quiray Tagle, Associate Curator, Brown Arts Institute and David Winton Bell Gallery, Brown University.
Sean Corcoran, Senior Curator of Photographs and Prints, Museum of the City of New York.
Kristen Lubben, Executive Director, Magnum Foundation.
On the occasion of the inaugural photography triennial exhibition at the Museum of the City of New York, co-curators Thea Quiray Tagle and Sean Corcoran discuss the exhaustive curatorial selection process for the exhibition, and its final 33 participating artists and collectives. The curators will provide insight into the themes which surfaced during the planning of the triennial, and will discuss the ways photography generatively expands popular notion of home, family, kinship, and community in New York and beyond.
For more information: https://www.aipad.com/show, or email info@aipad.com.