Author checking out images in Bievres. (Photo Courtesy of Hans Gummersbach)
The largest outdoor market for photography, Bievres, was hot, hot, hot, but I wasn't talking about the material or sales--just the temperatures which soared that weekend into the high 80s (or 30s if you want to talk Celsius). It seems to be losing its punch, as dealers more and more leave their best stuff home and bring their leftovers instead. As a consequence, the bigger buyers have virtually stopped coming.
This is really sad and doesn't have to be if the smaller dealers wake up and realize the potential sales that they are clearly leaving behind with the slow deterioration of this market. This year I did not hear of a single major work being sold. I bought a small, early Charles Negre and a '60s Cartier-Bresson that were decent, but these would have been solid small to mid-level pieces, not the pick of the litter, in the past.
It is the dealers' responsibility, as a group, to bring this market back unless they want to see another selling opportunity go by the wayside of indifference. If clients, as they have already, stop coming to Bievres, they also stop coming to Paris in the summer as well. Many of the dealers prefer to keep back their best material for private visits, but if the private visits end, then no one benefits. Of course, quality material is coming less and less on the market adding to the dilemma.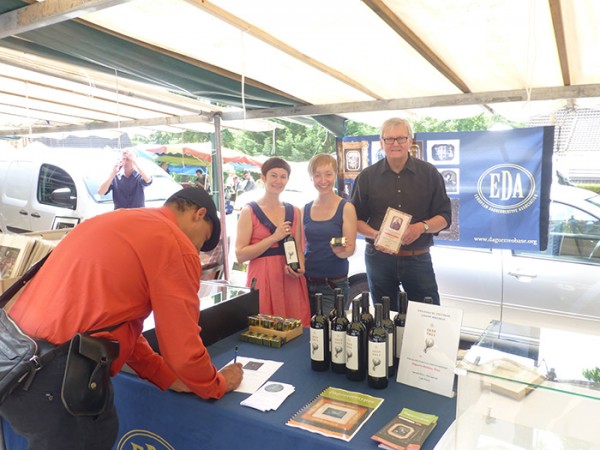 The European Daguerreotype Association promotion stall with Ann Deckers and Tamara Berghmans (both from the FotoMuseum Antwerp), and Hans Gummersbach. (Photo Courtesy of Hans Gummersbach)
Likewise some of the "major" fairs here in Europe and elsewhere are suffering from this same strange affliction. Only at AIPAD do dealers seem to find, hold and bring their best work to show. And that is why it still draws the top collectors and curators.
I think even Paris Photo needs to be a bit concerned as more and more vintage dealers either drop the show or are dropped by the show in favor of the latest "trendy" trash from "art" galleries, rather than photography people.
That said, I still come to Bievres to meet up with old friends and swap tall tales. Usually we meet over lunch now at Mille Feuilles, a restaurant and tea salon that is a few blocks off of the main square at 28 rue de l'eglise. Frankly it is not as good as Auberge Le Bretois, which is the restaurant that it replaced at this same address, but it is the best in town at the moment. It's view of the valley is spectacular, and it even has a small bookstore with photo and other tomes.
Now if we can only improve the photographic offerings here.
After getting back from Bievres on Saturday, a group of us met up at Willi's Wine Bar at 13 Rue des Petits Champs near the side of the old Bibliotheque Nationale; phone: +33 1 42 61 05 09. Willi's is one of my favorite haunts and has gotten better and better over the years. It also expanded three-fold and so it is a bit easier to get a table here, but I still recommend reservations, especially on weekends. Willi's is closed Sunday, but open the rest of the week for lunch, dinner and snacks.
Mark Williamson, the owner, has become a good friend. The restaurant's posters have become collectibles, and the older ones have been auctioned off for thousands of dollars. You can still buy many of the current and past ones at the bar.
We had an enjoyable meal among friends in the restaurant's back room. I once said that after seeing a U.S. Senator at the restaurant that I wouldn't hold that against them.
The next night I had an invitation to a barbeque at Philippe Jacquier's house in Montreuil. He and his wife Marion had prepared a lovely evening. I brought a couple of bottles of wine and champagne to add to the festivities.
Our friends from Alsace, Alexandre Steger and Estelle Hassenforder, joined the party, along with my friend Cecile Tailbot.
I don't know how Philippe arranged it but we had a lightning (éclair) display to rival any fireworks, and without rain. It was a lot of fun with lively conversation. With all the wine and champagne, I only remember snippets of the conversation, but some of the subjects included how to price and value photography, the magic of "presence" (and magic elephants), and our favorite images. My thanks again to Philippe and Marion.