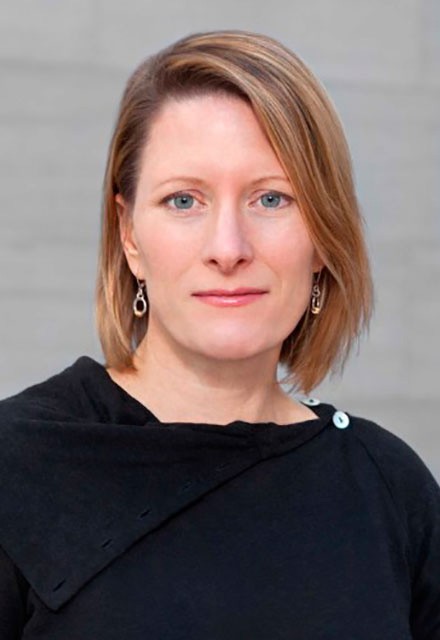 Sarah Kennel, new photo curator at Peabody Essex Museum
The Peabody Essex Museum has appointed Sarah Kennel, Ph.D., as its new curator of photography. Kennel joins PEM in September from the National Gallery of Art in Washington, D.C., where during her nine-year curatorial tenure, she helped oversee the National Gallery's permanent collection and managed an active exhibition program.
At PEM, Kennel will give the museum's vast photography collection--with its approximately 800,000 examples spanning the 19th-century through today--a prominent focus within the museum and develop exhibitions that celebrate photography's global impact and reach.
"Sarah's comprehensive knowledge of the artistic and technological history of the medium, combined with her appetite for the interdisciplinary and photography's dialogue with multiple art forms, will advance PEM's reputation as a top-flight cultural destination that provides fascinating, provocative experiences with photography," said Lynda Roscoe Hartigan, PEM's James B. and Mary Lou Hawkes Chief Curator.
Kennel holds a Ph.D. in art history from the University of California, Berkeley, where she completed her dissertation on the relationship between dance and the visual arts in early 20th-century Paris. Her interest in dance resurfaced at the National Gallery in 2013 when she curated an interdisciplinary exhibition on the Ballets Russes, in partnership with the Victoria and Albert Museum. The exhibition, Diaghilev and the Golden Age of the Ballets Russes, 1909-1929: When Art Danced with Music, brought together costumes, textiles, film, music and dance performances and earned Kennel an AICA-USA Award for Excellence in Art Criticism and Curatorial Achievement.
Following a pre-doctoral fellowship at the National Gallery's Center for Advanced Study in the Visual Arts, Kennel joined the department of photography where she contributed to numerous shows, including André Kertész (2005), Irving Penn: The Platinum Prints (2005) and The Art of the American Snapshot (2007). She has also curated or co-curated Paris in Transition: Photographs from the National Gallery of Art (2007); In the Forest of Fontainebleau: Painters and Photographers from Corot to Monet (2008); In the Darkroom: Photographic Processes Before the Digital Age (2009) and The Serial Portrait: Photography and Identity in the Last One Hundred Years (2012).
In 2013, Kennel won first prize from the Association of Art Museum Curators for an essay on Charles Marville, a little-known French photographer who captured rapid and dramatic change in 19th-century Paris. The related exhibition, Charles Marville: Photographer of Paris, was organized by Kennel and traveled to the Metropolitan Museum of Art and the Museum of Fine Arts, Houston.
Kennel pursued her undergraduate degree at Princeton University and received both her graduate work at the University of California, Berkeley. A native of Los Angeles, she speaks French and Italian and has taught at the University of California, Princeton University and George Washington University.