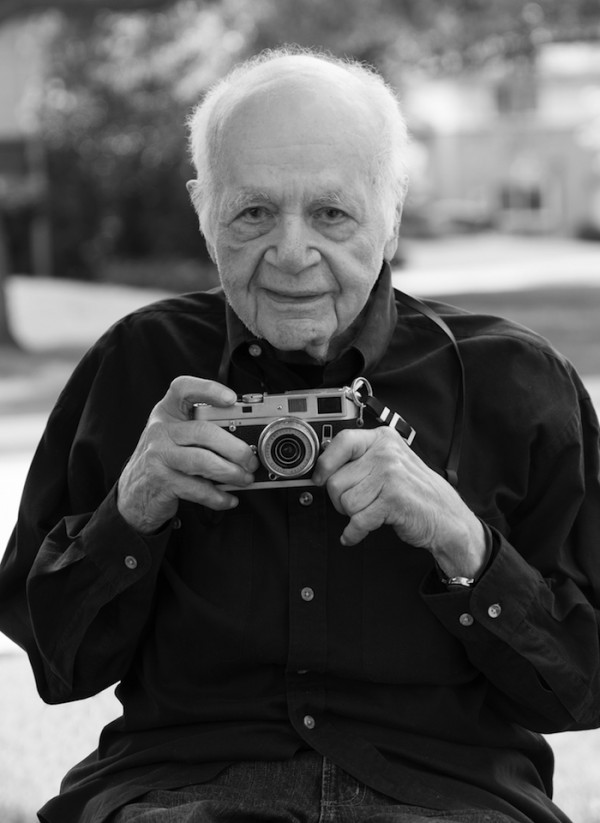 Art Shay (Photo by Richard Shay)
Photographer Art Shay died April 28th of heart failure in Deerfield, IL. He was 96.
Born in the Bronx in 1922, Shay photographed many famous personalities on over 1,500 freelance magazine assignments, including nine presidents, Marlon Brando, Elizabeth Taylor, Muhammad Ali, Jimmy Hoffa, Senator Joseph R. McCarthy, Ernest Hemingway, Hugh Hefner and Martin Luther King. His first famous image was taken in England during WWII when two U.S. bombers collided in midair. He sold that photo to Look Magazine for $100.
Shay was also encouraged to be a writer, and from 1947-49 he wrote hundreds of bylines while on the LIFE magazine staff. But he became a Chicago-based freelance photographer in 1949.
Shay wrote weekly columns for various newspapers, several plays, children's books, sports books and several photo essay books including "My Florence" released in February 2015, which was about his wife who had passed away from cancer in 2012.
Shay received the lifetime achievement award from the Lucie Foundation in 2017 at Carnegie Hall. He pulled out a harmonica on stage and hummed a little tune. "Now I can say I've played Carnegie Hall," he remarked at the time.
In 2007, Shay had his first major retrospective of his black and white photographs which ran for six months at the Chicago History Museum: "The Essential Art Shay: Selected Photographs." In 2008, The Museum of Contemporary Art, Chicago held an exhibit of photographs entitled "Art Shay: Chicago Accent". In 2010, Chicago's Thomas Master's Gallery featured Shay's first show of exclusively his color photography "Art Shay: True Colors."
Santa Fe's Monroe Gallery and Chicago's Gallery Victor Armendariz currently represent Shay's work.
Shay's photography is included in the permanent collections of many museums, including the National Portrait Gallery, the Art Institute of Chicago and the Chicago Museum of Contemporary Photography.
Shay is survived by sons, Richard and Steven; two daughters, Jane Wald and Lauren Lavin; six grandchildren; and three great-grandchildren. A son, Harmon, went missing and was never found in Florida in 1971.