The Photography Show by AIPAD (Photograph courtesy of AIPAD and Francesca Magnani, photographer)
The AIPAD New York Photography Show had to find a new venue since there was little in the way of reconstruction on the collapsing piers during COVID lockdown. AIPAD had struck a deal with RX France, Paris Photo's corporate parent, in June 2019, so that they would take over running The Photography Show in 2020 at the Piers. But then COVID hit and the old Piers, where the show was being held, were found to be collapsing.
After two years without a show, COVID started to abate. RX France finally got to open Paris Photo again in November 2021 to enthusiastic crowds, hungry for a live venue after being cooped up for so long. It was a tremendous success all around, despite being in the makeshift quarters of the Grand Palais Ephémère, where it will be staged once again this November, before finally returning to the reconstructed and repaired Grand Palais. I am pleased to note that Contemporary Works/Vintage Works will be exhibiting there with Galerie Francoise Paviot once again this November.
But the problem for the New York show was New York's dearth of good venues for such a show. Despite looking extensively, RX France, Paris Photo's corporate parent, couldn't find a suitable alternative venue that worked for them and was available.
AIPAD's Board though was determined not to let another year go by without an exhibit show of some kind. After checking with RX France for its approval, the association decided to go it alone at a new venue in Midtown that had never held an art fair before: Center415. But the location, unlike the Piers, had plenty of hotels and restaurants surrounding it, so that attendees could return to the show easily after a meal or meeting. And the space was modern, and--most importantly--it was available. Congratulations to the board and President Michael Lee for all the hard work put in on this show.
One of the key issues with the new venue though was its lack of space: only 48 booths and 49 exhibitors could be shoehorned into two floors. Some exhibitors, like myself, found themselves out of luck, even if they made the deadline for applying. I had talked several dealers into doing the show, but in the process had lost my own opportunity to get into the show, as it quickly booked up prior to the deadline. However, some exhibitors and attendees liked the smaller, more intimate space.
Meeting up in the busy aisles by the big photo of Mohammad Ali by Flip Schulke. (Photograph courtesy of AIPAD and Francesca Magnani, photographer)
As Sid Monroe, of Monroe Gallery noted to me, "We loved the new venue; the feedback from visitors to the fair was extremely positive. The space overall was a bit choppy, but visitors seemed to navigate through the different wings with relative ease. Overall the feeling was more intimate, very different than the enormous space of the Piers, and there was more uniformity in booth sizes. The staff of AIPAD and the show contractors were fantastic and readily available to assist with any need or concern--from set-up and throughout the run of the show. The space seemed maxed out with the current number of exhibitors so growth may be an issue."
All in all, the show was a welcome return to semi-normalcy after over two and a half years of COVID shutdowns, violent protests, crime waves and a crazy election cycle, capped by the January 6th debacle. Whatever you made of these times, they certainly weren't conducive to doing business as normal, especially for galleries—many of whom went private, temporarily closed their doors to the public or limited their access, moved, or simply went out of business.
But after all this time, the physical fairs were welcomed back, and AIPAD's New York fair was no exception, as many echoed.
"The 41st edition of The Photography Show was exceptional," said Michael Lee, president of AIPAD and owner of Lee Gallery. "Collectors, curators and museum groups finally were able to gather again in front of the very best photography, after an absence of three years due to the pandemic. It was a joyous celebration of the extraordinary photography on view, the stunning new venue, the reunification of the photography community, and sales across the board in all periods."
One of the highlights of the show was a wheat paste mural by Michael Jang at Lee Gallery. Michael Jang's work is currently on view at the San Francisco Museum of Modern Art. Michael Lee sold 10 prints by Jang to five institutions.
Monroe Gallery's booth at the recent AIPAD show.
Sid Monroe told me, "We had great anticipation for the AIPAD Photography Show but also great uncertainty as to what to expect. After the two-year hiatus during COVID, we have come to realize that very little is 'returning to normal', but instead we are feeling our way towards a new time and way of life. Coupled with the current political and economic environment, we really did not know what to expect. We were cautiously hopeful about the fair, and were extremely surprised and happy with the results. Sales during the Show were brisk, and follow-up sales have also been strong. All in all, the results compared to some of our best pre-COVID AIPAD shows.
Monroe said, "We presented two distinct exhibits--one of contemporary photojournalists with images and issues of the past 5-7 years; and another exhibit devoted to Tony Vaccaro, who was in attendance at age 99. Sales were steady across both spectrums of our exhibits, and split almost evenly between contemporary photojournalism and Tony Vaccaro's work.
"A few highlights were multiple sales of Ashley Gilbertson's January 6th photograph of Officer Goodman and of a food-line in Manhattan in 2020 during the pandemic; sales of Anna Boyiazis' acclaimed "Finding Freedom in the Water" series, including a large 30 x 40 in. print; and a 60 x 40 in. print of Ryan Vizzion's "A church flooded by Hurricane Florence stands silently in its reflection in Burgaw, NC, 2018". David Butow's two prints of the Ukrainian exodus that he photographed in March, just after the Russian invasion, generated a lot of interest.
"The majority of sales were in the $2,500-$15,000 range with several sales at the higher end. We saw and sold almost exclusively to Americans, which was expected, as we doubted international clients would be traveling. We sold to museums and institutions, established collectors, and a fair amount of new clients."
Stephen Bulger Gallery's booth drew visitors.
Stephen Bulger from Toronto remarked, "We did better than expected in terms of sales. I used the occasion to help regain my "sea legs" and reconnect with colleagues and clients. I was very happy to be there and was instantly reminded how much I enjoy the company of my fellow AIPAD members, and love seeing great prints of familiar photographs, as well as discover new artists and images. It seemed like other AIPAD shows, but on a more intimate scale.
"We had a lot of attention for the work of Rita Leistner and Larry Towell, who were both celebrating the release of new books, and for whom we devoted more than half of our booth. I was also happy for the attention we received for the variety of work we brought. In particular, many people were amazed to see one of Wendy Ewald's 'American Alphabets' in person, and we continue to grow appreciate for Minna Keene's work made over 100 years ago. Phil Bergerson's work from the early 1970s was a pleasant surprise for many, as was the video work by Adam Magyar and the décollage by Mehdi Dandi. A portrait by Rosalind Fox Solomon also attracted considerable discussion."
Bulger mentioned work from around the show: "I was glad to see Dawoud Bey's work in Stephen Daiter's booth, having missed seeing his newest work in his traveling show due to COVID restrictions on travel. The Joel Peter Witkin contact sheets in the booth by Terry Etherton and Baudoin Lebon were an eye opener. Hans Kraus had a spectacular Baldus of the Aqueduct at Roquefavour. The display of Michael Jang in the Lee Gallery booth stopped me in my tracks several times."
Larry Miller of Lawrence Miller Gallery said, "This recent AIPAD was much more subdued than previous ones, with lingering COVID fears certainly a part of it. Attendance seemed much thinner, with minimal European visitors, and not that many out-of-towners. On the other hand, representatives of many museums attended. Fortunately for us, the majority of our sales are to museums, especially the Japanese American early 20th Century work we have been concentrating on this past year. The one piece that elicited the most excitement was the Kentaro Nakamura "Evening Wave," which was flirted with by several museum curators and patrons, and it does seem to have found a museum home. Confirmation will be coming this autumn. This was definitely a highlight of our stand.
Lawrence Miller Gallery booth's selection of contemporary photographs.
"We are in the process of selling eight Taizo Kato prints to a museum, hopefully other Kato portraits to another museum. We also received confirmation that a fine group of American Pictorialist exhibition prints will be acquired by another museum.
"Our sales to individuals--far fewer than previous years (so far)--was 90% contemporary photographs in color by women photographers, including works by Anastasia Samoylova, Raissa Venables and Yoko Ikeda. Unlike previous years, we did not sell work by Helen Levitt and Ray Metzker.
"I thought the show overall looked good, but there are several things that can be improved upon and should be implemented, in my opinion. We need more exhibitors. Every one of us has clients that others may not know, exhibits exceptional works seen nowhere else, so the more exhibitors the better. The huge lounge on the second floor overlooking Fifth Avenue was a waste of space in my mind. Perhaps a theme exhibit or two more stands would have been a better use. But I liked the location, the show was well organized, and I hope going forward next year will be much brighter on many fronts.
Sayaka Takahashi, director of PGI, Tokyo, who shared a booth and a joint project with New York's L. Parker Stephenson, told us, "Offering oscillating viewpoints on human experience, the two galleries collaboratively curated a booth featuring three themed sections--environment, surrealism and entangled life. Including works by more than 10 international artists, the selection brings together multiple generations from global modernism to the present.
"The youngest artist in the selection was Narumi Hiramoto, whose inquisitive mind has found a way to tap into the tactile origins of surrealism, a subtly prominent influence to many generations of Japanese artists, leading right into the present, with a fluency of both analogue and internet-based technologies. Hiramoto constantly demonstrates a sense of fluidity of ideas, moving from one boundary to another, including the artist's own identity and gender, while posting one new image on Instagram every day that takes its motif from the local newspaper of that day. All of Hiramoto's prints are unique and are $1,000 each.
"Still unsold is the important piece by Kiyoji Otsuji. Otsuji rarely printed his work outside of the editorial photographs of his early days. The print presented was made by Otsuji himself and is considered among the oldest of his extant prints from the 1980s. Japan in the early 1950s, when the negative was made, was a new-born democratic nation that saw a burst of young artists. One of them, Hideko Fukushima, became a leading abstract painter of her time. Her image in the show was printed c.1980s on RC paper, and was priced at $25,000.
Takahashi added, "I think the location was really good. I still miss the Armory, but the new venue was good. And inside of the venue was also nice; we were very much satisfied. The design of the venue, VIP lounge, the coffee stands are good but there are some spaces that we could use more effective. For example, there was a space that had only one sofa and people could have a rest but we also could use that place for a talk, a workshop, booths for young dealers, etc."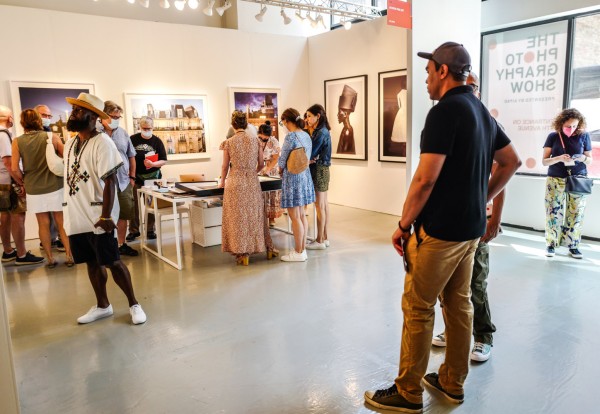 The Photography Show by AIPAD (Photograph courtesy of AIPAD and Francesca Magnani, photographer)
Stephen Daiter said, "We had a decent show and liked both the show's location and our placement within it. I was more surprised by what did not sell than what sold - most notably a series of four exceptional vintage 1950s Robert Franks, three from the Americans. We sold a Kertesz carte-postale (cover of recent AIC postale catalog raisonne), as well as a vintage William Klein, Marvin Newman and Harry Callahan, We showed work by Dawoud Bey from the series In 'This Here Place' as well as several large Street Portraits, all of which garnered a lot of interest.
"Of the many fine booths, I especially enjoyed viewing Richard Moore's Lange and Levitt groupings, Christiane Feser's work at Gitterman and various Japanese photographs at Ibasho. While the show looked good and most exhibitors I talked to had solid but not exceptional fairs, the show needs to go to a larger venue next year to build on 2022's momentum rather than risk losing the momentum it created."
London's Michael Hoppen said, "It has been a very busy few months of fair activity for us with our first AIPAD in New York for three years and more recently, Masterpiece in London. At both fairs, it was wonderful to re-engage person to person again. The photography community is a strong and international group of dedicated dealers, curators, writers, and of course, wonderful, and talented practitioners from all over the world. We are collectively focused on preserving the history and legacy of our medium and together we are helping to steer photography through these strange and challenging times.
"AIPAD gave us the opportunity to once again meet with American museum curators, many of whom had not been able to travel to Europe in the past two years. They delighted in the work of Sian Davey, and also in poignant new photographs by Lucas Foglia. The rare and exceptional works by Japanese post-war masters Masahisa Fukase and Eikoh Hosoe that we took to the fair were placed in the collections of important American institutions."
Yancey Richardson of Yancy Richardson Gallery said "We were thrilled to be back at AIPAD with all of our colleagues in a beautiful new home. We look forward to participating next year." The gallery sold more than 25 photographs in the $4,000 to $50,000 range including work by Tseng Kwong Chi and Guanyu Xu to institutions. "We had a ton of conversations with museums," noted Richardson. She also sold work by Zanele Muholi, Mary Ellen Bartley, David Alekhuogie, Andrew Moore, and John Divola.
Houston's Cat Couturier in her booth at AIPAD.
Tom Gitterman of Gitterman Gallery said, "We had a lot of collectors and curators visit us. The show looked great. Gallerists and visitors were in very good spirits, and the atmosphere was really enjoyable. We sold a lot of Christiane Feser's work, an early Josef Koudelka, Khalik Allah, Roger Catherineau, Allen Frame, and Jean Painlevé & Eli Lotar, with a price range from $2,500 to $34,000."
The artist Patty Carroll and Cat Couturier in front of the work, Red, Red Wine.
Gitterman had a few more sales after the fair too: a unique William Larson electro-carbon print and a 1940s dye transfer by Henry Holmes Smith. He still has a great Helen Levitt sequence of 12 vintage prints. It seems reasonably priced at $30,000, and it is published in her book, Crosstown. New York: powerHouse, NY, 2001, p. 86-87 (8 of the 12 images).
Houston gallerist Catherine Couturier reported, "I sold a good bit at the show and have had lots of follow-up sales, which is unusual, but it wasn't my most lucrative of all time. I really didn't worry or care as much as I have in years past, though, because everyone was so happy! It was probably the best 'mood' an AIPAD has ever been.
"Red, Red Wine by Patty Carroll got a lot of attention in my booth, and I sold quite a few, both at the fair and after. She's so reasonably priced that there wasn't much hesitation. I loved the location and space. I thought the show look really great, and my collectors were so happy not to have to get all the way to the Piers, which I think are universally hated. It was so nice to be right by hotels and restaurants!
Terry Etherton, of Tucson-based Etherton Gallery, had a good display of Joel-Peter Witkin's work, and sold a copy of his "Harvest" image. (Photograph courtesy of AIPAD and Francesca Magnani, photographer)
"Only other comment is that I worry the space isn't big enough for us if we get back to the number of booths we had pre-COVID. I would hate for member dealers to feel excluded, as I know a few did this year. Overall, though, I thought the show looked great, and the caliber and quality of the work there was incredible."
Terry Etherton, of Tucson-based Etherton Gallery, reported, "We sold a large print of Joel-Peter Witkin's Harvest. We still have a print of The Kiss, arguably Witkin's most famous image. The Kiss is priced at $135,000.
"Given all that AIPAD had to deal with, I thought the venue was good. It would be better to have the show on one floor. I think the AIPAD Show Committee needs to be acknowledged for all of the work they did to produce the show. While not perfect, they did the very best they could with the space."
Etherton told us that one of the more interesting pieces at the show was the Man Ray image of Lee Miller in Michael Shapiro's booth. It also caught my eye too.
Josep Sala's photogram with negative image in Robert Koch Gallery's booth.
Robert Koch of San Francisco said, "We did well, selling both vintage 19th and 20th-Century, as well as contemporary work; and we are still working on sales with museums and collections.
"The location had its challenges being in multiple rooms on two floors. I noticed that at different times it would be crowded on one floor and not on the other. The attendance was unusually light on the weekend, especially Sunday, which is when we typically sell more contemporary work. This possibly was affected by the hot weather and it being the weekend before Memorial Day. That being said, considering we were still in somewhat of a COVID environment and there were fewer dealers, it was a positive experience with quality attendance.
"We exhibited a strong group of J.B. Greene early 19th-century prints from Egypt and Algeria and still have prints available. We also exhibited experimental work, such as photograms, negative images, solarized prints and collages from 1923-1946 and still have superb unique prints by György Kepes, László Moholy-Nagy, Jaromir Funke and Josep Sala."
Michael Shapiro of Michael Shapiro Photographs said he loved the venue and that "it was a great show, one of the best in years." Cat Couturier noted to me that "Michael Shapiro's booth was fantastic. The Robert Frank and Lee Miller solarization by Man Ray on the main wall were incredible."
Irving Penn sold at Johan Faber's booth.
Hans P. Kraus Jr. Inc. sold photographs by Benjamin Brecknell Turner, Doris Ulmann, and Hiroshi Sugimoto. Jenkins Johnson Gallery praised the "steady traffic and welcoming atmosphere," which resulted in sales to a major museum among others.
Norberto Rivera at Throckmorton Fine Art noted, "The venue is refreshing, and we are hearing it is easily accessible," and was pleased with "a great amount of traffic." The gallery sold 10 photographs by Hiroshi Sugimoto, Manuel Álvarez Bravo, Graciela Iturbide, Flor Garduño, Lynn Gilbert, Tina Modotti, and Tatiana Parcero.
Johan Faber out of Vienna told us, "The fair met my expectations. The last time I exhibited at AIPAD was in 2014 at the Park Avenue Amory, so I am not able to compare the fair at the different venues. Booth and layout were OK, but a little bit confusing on the upper floor. Sales went quite well. We exhibited in Paris Photo 2021 and also did quite well. We sold mostly mid-range material, mostly pieces between $4,000 and $ 38,000, including Josef Sudek, Irving Penn and Patti Smith."
Alan Klotz Gallery appreciated the "interested and engaged" collectors and sold over 15 photographs including prints by André Kertész and David Seymour (Chim).
Keith de Lellis Gallery sold work to more than eight museums including photographs by C.M. Battey for $12,500 and G.L. Manuel's 1930 portrait of Josephine Baker for $9,500.
Jennifer Schlesinger of Obscura Gallery noted the "beautifully oriented space", which "looked gorgeous." The gallery sold photographs by Rania Matar, Michael Massaia and Rashod Taylor.
Brian Paul Clamp of ClampArt said, "The show looked great, and the new venue is attractive and convenient." The gallery sold work including a gelatin silver print by Peter Hujar for $18,000, and prints by Gordon Parks and Brian Buckley.
Charles Isaacs Photographs sold more than a dozen photographs and was pleased by the "good looking" exhibition.
Ibasho Gallery was pleased to sell work by all of their four featured artists including Paul Cupido, Mika Horie, Miho Kajioka and Casper Faassen, and commented on a number of out-of-state clients from Texas, New Mexico, Massachusetts, Pennsylvania, and California.
Novak has over 45 years experience in the photography-collecting arena. He is a long-time member and formally board member of the Daguerreian Society, and, when it was still functioning, he was a member of the American Historical Photographic Society. He organized the 2016 19th-century Photography Show and Conference for the Daguerreian Society. He is also a long-time member of the Association of International Photography Art Dealers. Novak has been a member of the board of the nonprofit Photo Review, which publishes both the Photo Review and the Photograph Collector, and is currently on the Photo Review's advisory board. He was a founding member of the Getty Museum Photography Council. He is author of French 19th-Century Master Photographers: Life into Art.
Novak has had photography articles and columns published in several newspapers, the American Photographic Historical Society newsletter, the Photograph Collector and the Daguerreian Society newsletter. He writes and publishes the E-Photo Newsletter, the largest circulation newsletter in the field. Novak is also president and owner of Contemporary Works/Vintage Works, a private photography dealer, which sells by appointment and at exhibit shows, such as AIPAD New York and Miami, Art Chicago, Classic Photography LA, Photo LA, Paris Photo, The 19th-century Photography Show, etc.