Waiting to get into The Photography Show. (Photo courtesy of AIPAD)
The 42nd edition of The Photography Show presented by the Association of International Photography Art Dealers (AIPAD) seemed to click on all cylinders this year in its new March 30th-April 2nd slot at the Center415 venue. With nearly 10,000 visitors this year the 44 exhibitors were busy nearly the entire time.
"The 42nd edition of The Photography Show was one of the most vibrant," said Lydia Melamed Johnson, Director, The Photography Show presented by AIPAD, and Executive Director, The Association of International Photography Art Dealers.
"We had the core group of AIPAD galleries and quite a few first-time exhibitors, fantastic partners, and a new energy that was inspiring to collectors and curators. AIPAD's encyclopedic approach to the medium of photography provides an exceptional perspective, one that continuously gains momentum, with noteworthy sales across the board."
You can check out many of the photographs still being sold at: https://www.aipad.com/features.
Laurence Miller Gallery brought a large group of Muybridge collotypes to the fair: Eadweard Muybridge, Plate 637 from the portfolio: Animal Locomotion. Jumping a hurdle; saddle; clearing, landing and recovering; bay horse Daisy, 1887.
Larry Miller of Laurence Miller Gallery told us, "We had a wonderful fair, and sold over 20 works with several more in progress. And we covered a lot of territory, from 1880's Muybridge Animal Locomotion to new unique works by Patricia Bender. Certainly the fair was much more attended this year, and the vibes were excellent throughout. Easily many times more productive and enjoyable than last year.
"Our most interesting and unique work in several ways was our one-of-a kind stitched serial portrait of Milton Berle by Andy Warhol, which is still available for only $45,000. We brought several dozen just acquired Eadweard Muybridges and sold seven during setup, a great way to start the show. We have several more under consideration. They range from $2000 to $7500. We made sales to both the Met and the National Gallery.
"The market has been bumpy, but thankfully we had a six-figure show and lots of inquiries that we hope pan out."
Miller noted, "Every booth had something fresh and dynamic, both contemporary and vintage. I saw many works by photographers I had never heard of before. Certainly the most challenging was the work of Rodrigo Valenzuela, a great contemporary artist at the Assembly Gallery."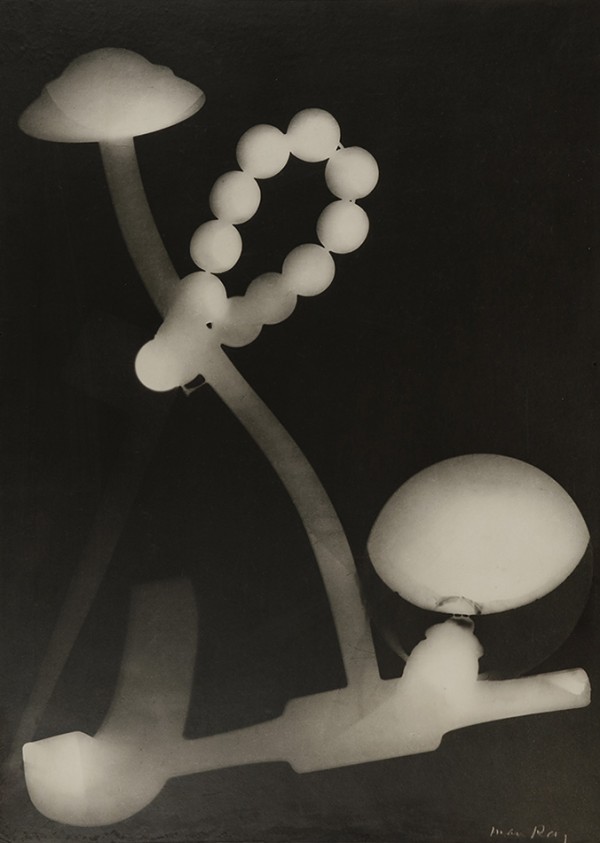 This unique enlargement of a Rayograph by Man Ray for a traveling museum show was sold by Vintage Works at AIPAD.
My own company, Contemporary Works/Vintage Works also sold rather well, and also into six-figures. We sold a rather fabulous and unique Man Ray enlargement of one of his best Rayographs to a collector and museum trustee from Alabama. The Rijksmuseum, whose curators won this year's AIPAD award, selected an early and probably unique Aaron Siskind abstract that was made for his first exhibition at the Egan Gallery. One of Lisa Holden's marvelous digitally manipulated landscapes, Pale Forest, was ordered off our front wall by an enthusiastic couple. We also sold a small nude photo collage by another of our artists that we represent, Paula Chamlee. Other noted photographs that were sold to collectors included: Robert Doisneau's Le Petit Balcon; Harry Callahan's Aix-en-Provence; Heinrich Kuhn's Bromoil print of Walter and Hans Kuhn; and several oversized albumen prints by Giovanni Crupi of Taormina. We also sold Bill Owens, Self Portrait (with wig display), to the Met.
We are still waiting to hear back from several collectors and institutions on certain images, including the exceptionally rare (only two prints known) Gustave Le Gray of Fontainebleau Forest: the Pavé de Chailly, which we showed for the first time in our "closet". We had kept a group of important daguerreotypes and paper prints by Hippolyte Bayard under the tables for a museum client, who unfortunately failed to come to our booth, so they are still available.
This rare Gustave Le Gray was in the closet in Vintage Works' booth. It was used as a study for a painting by Claude Monet.
On our booth walls we showed: several major Man Rays (besides the one that sold); a unique and important Hans Belmer, Poupee, which was probably the highest value photograph in the fair; that Aaron Siskind Abstract; several very rare Chinese ethnographic images by John Thomson; a half dozen J.B. Greene salt prints of Egypt; a unique print by Julia M. Cameron of Isabel Bateman in the Character of Queen Henrietta Maria; an exceedingly rare salt print by Édouard Baldus of the "Ramparts Destroyed by the Flood, Avignon, France"; the famous and early modernist photo (and unique in private hands) of a box car driven by the photographer's brother (Courses de Bob) by Jacques-Henri Lartigue; and important 20th-century vintage prints by—just to mention a few others--Atget, Doisneau, Cartier-Bresson, Brassai, Bing, Cunningham, Frank Eugene, Kepes, Kertesz, Lange, Sudek and Wols.
This Lisa Holden, Pale Forest, attracted a lot of interest and sold at the fair. Several more prints are still available in the edition in two sizes.
We also showed large color work by two important contemporary artists, whom we represent:
--Lisa Holden, an important English-Dutch digital artist featured in the film, "Darkly Digital", who has been compared to Cindy Sherman and Pipolita Reese. She combines digital imagery with hand-painted layers to create 'parallel realities', referring to the exploration of displacement, adoption and the reinvention of identity as a necessity for survival. We showed two of her works on our front walls: Pale Forest, which sold at the show (although there a few left in the edition for sale), and The Daughters. Both images got a lot of attention at the show.
--Jerry Spagnoli, perhaps the most significant modern daguerreotypist, as well as an important contemporary color photographer. He took the daguerreotypes that Chuck Close is credited for, as well as teaching the process to several other contemporary artists, such as Adam Fuss. He has five photobooks out already, and the large color piece (Sheep Meadow, Central Park) that we had on our sidewall is scheduled to be included in another photobook to be published by Steidl Publishing in the next year or so. Jerry also has just won a Guggenheim Award this year.
All in all, it was my best AIPAD Show since the group moved from the Armory. We sold pretty much from every period, including 19th-century, 20th-century and contemporary works, and from three to six figures.
Boston Museum of Fine Art Curator Kristen Gresch and her shy daughter visited the Vintage Works booth.
In addition, I got to spend time with a number of photography friends, making the show a truly enjoyable event. It was great to see a good contingent of photo curators in our booth, including Jeff Rosenheim, Stephen Pinson and Mia Fineman from the Met; Malcolm Daniel from the Museum of Fine Arts, Houston; Barbara Tannenbaum from the Cleveland Museum of Art; Kristen Gresh, Museum of Fine Arts, Boston; Dr. Gilad Reich from the Israel Museum; Kate Bussard, Princeton Museum of Art; Joel Smith from the Morgan Library & Museum; Luke Jordan from the Spencer Museum of Art; Sarah Greenough and Diane Waggoner from the National Gallery of Art (Wash. DC), and, of course, Dr. Hans Rooseboom and Mattie Boom from the Rijksmuseum. Photographers Barbara Crane, Jerry Spagnoli and Paula Chamlee stopped by as well. I know a few others stopped by too, but clearly I missed or maybe I just forgot you in the rush, so pop in at Paris Photo in November.
Long-time dealer Gary Edwards said, "Attendance was excellent. There were few lulls, and often the aisles, and booths, were crowded. I met new buyers, and renewed ties to old clients and familiar curators. Throughout the show I sold a steady stream of Press Prints and 19th-century architectural and landscape photos, including salt prints. There was great interest in two separate collections I displayed relating to Black History - 14 full plate tintypes of African American men and women (all unidentified), and a collection of 12 cdv-size Black nannies and their white charges, plus miscellaneous other 19th-century photographs of African American subjects. All sold.
A great copy of "Views of Japan", by Signor F. Beato was on display in Gary Edwards' booth. (Photo courtesy of Gary Edwards)
"My most expensive item was an intact album from 1868 of "Views of Japan, by Signor F. Beato." Several potential collectors and agents examined this rarity, and negotiations on a sale are pending. The quality of the prints is excellent. I displayed the album with one page open for viewing, and provided a reduced replica to illustrate all 86 views. It is as yet unsold at $90,000.
"Part of another collection, "Faces of the Civil War," was displayed and a replica with the full collection of 80 portraits of Union and Confederate soldiers was available for study. The collection remains unsold at $75,000
"The over-all appearance of the show was excellent, and organization of the fair was impeccable. Configuration of the space presented some difficulties and perhaps confusion, but it was an excellent and successful fair."
This installation of Annie Wang's "Mother as Creator" series in Daiter Gallery booth got a lot of institutional attention. (Photo courtesy of Daiter Gallery)
Stephen Daiter of Chicago's Daiter Gallery said, "We did well with contemporary photography at the fair, namely, Annie Hsia-Ching Wang's series "Mother as Creator". We placed several sets of the series in museums. This fair was about the same as last year's for us sales-wise but less than we did at fairs that took place on the piers or the Armory.
"A very special triptych by Peter Hujar came home with us, although it got a lot of attention, and early images by Charles Swedlund, including contemporary prints that were large-scale, and some small vintage pieces sold well."
Daiter felt that the fair's "location is nice and very well-maintained by staff, etc. The traffic in general was lighter, though to-be-expected since there are about half the amount of dealers that fit in the location. The general sentiment among peers is that the space is too small. Overall the market seems improving but particular."
New York dealer Tom Gitterman told us, "We did well and there was further activity with meetings with clients and consultants after the show, about the same as last year. We sold work by Christiane Feser, Allen Frame, Mary Ellen Mark, Roger Catherineau, Joseph Szabo, Matt Herron. Christiane Feser creates three-dimensional photographic-based work. Her photographs are of complex assemblages of sewing pins and shadows (created by projecting an image of a grid on the pins). The print is held in the frame with actual pins from the assemblage, which create their own shadows. Some of the more subtle pieces by Feser are so dynamic in person."
Sid Monroe of Monroe Gallery said, "We were fortunate to have a very successful AIPAD, and the followup response to date has been surprisingly robust. We presented three distinct exhibits at the Show: a showcase of the work of independent contemporary photojournalists; a selection of Sonia Handelman Meyer (1920-2022) and Ida Wyman (1926–2019) photographs, two pioneering women photographers of the Photo League; and a selection of WWII, fashion, and artist's portraits by the late Tony Vaccaro. We were extremely pleased to see sales results across all three areas. We sold to museums and returning collectors but mostly to many new collectors.
"It seems difficult to compare to past AIPAD Shows because so much has changed in our world. The current venue is certainly smaller in size and the number of exhibitors, but after two years at Center415 it seems to be a more intimate experience attracting a new, younger, and more photo-curious visitor. We were very happy to see the wide range of photography on exhibit across the many dealers, which should have been an excellent introduction to the medium for the new and curious visitor.
"As for the state of the market, we see the pandemic as an end to "business as usual". We as a society are facing extreme challenges: political, social, economic; and environmental and climate change issues are unavoidable not only in this country but globally. The global threat of conflict is weighing on the economy. Local, National, and World situations can change at a moment's notice. We are in turbulent times even if the moment seems tranquil and the last crises seems to be receding, as another shock seems to always be pending. We continue to believe that collecting photography can be a meaningful comfort and inspiration for us all, even as we endeavor to figure out the new playbook for being a gallery/dealer."
New York dealer Keith de Lellis, reported, "I did well at the fair. I sold a number of prints to important museums, to dealers, one whom I had never dealt with before and not an AIPAD member, but someone with multiple galleries. Our sales were typically multiple prints. I felt the result was comparable to our best AIPAD fairs, and so in challenging times I felt this was a very good result. We had a Stieglitz platinum print from 1897 of the Savoy Hotel at Night (Fifth Avenue and 59th Street), small in scale, which is typical of his early NY platinums. A real gem and ten years before the Steerage. It was priced at $130,000 and an exceptional example of an early modernist work. His early platinums tend to be dull nature studies or Pictorialist character studies, so to have an early NYC view at night was particularly exciting to find. It came from Dorothy Norman, so the provenance was excellent.
"I thought the show looked good; I like the space. It took some getting used to; but it's hard to find these kinds of spaces in NYC, and this location and the building itself works well. The market is challenging, there's a lot to buy. And this is a great moment to buy, and I have had to become aggressive about moving out material. But I've been in business for over 50 years, and so I have a lot of assets that I can call on to raise funds and keep things going smoothly.
Paul Hertzman had brought a collection of vintage prints by Hans Namuth of Jackson Pollock Painting.
Private San Francisco dealer Paul Hertzman noted, "The fair met our expectations. We were gratified to see many people this year who did not attend last year, especially as pictures sold to these returning attendees. We did about as well as last year. Our main presentation this year were photograms (they called them photo-grafics) by Toni von Haken-Schrammen and Eberhard Schrammen, a wife and husband duo whose works are quite different from one another, but both work in photograms. We held numerous conversations with curators and collectors explaining the process the Schrammens used to produce their pictures. As we own a large collection of their work, we still have many fantastic images available. We sold other interesting photographs by the sculptor César, Brassai, Edward Weston, Natalia LL, Lucas Samaras and Manual Alvarez Bravo. One other photographer that held the attention of many was Hans Namuth's images of Jackson Pollock painting in his studio. As we have a large collection of these images, some are still available.
"Many of the attendees openly told us they like the current exhibition space much more than the piers. This year no one complained about getting lost on either floor. Lydia and her team deserve much appreciation for the visual quality and efficiency of this years fair. They did a splendid job. We, and many of our colleagues, were very pleased with how smoothly everything went.
"We feel the current market is a difficult one. Changes have occurred in people's tastes, museum needs, and available imagery that appeals to us. We certainly would buy more if we could find more of what interests us."
Bruce Silverstein commented that the show was "incredible, better than last year. The talks, tours, and fair partners were impressive and added to the bigger crowds." The gallery sold 22 works including photography by André Kertész, Dakota Mace, and Sarah Sense.
David Peckman of Howard Greenberg Gallery noted, "Attendance was up and there was great energy, with a nice mix of seasoned and novice collectors." The Gallery sold work by Gordon Parks, Bruce Davidson, and Jaroslav Rössler.
Parker Stephenson of L. Parker Stephenson Photographs noted "strong attendance by curators, previously unknown collectors, and museum groups, and seasoned collectors of all ages." The gallery sold photography by Kikuji Kawada, Jens Knigge, and John Cohen.
First-time exhibitor Assembly was impressed by the "well attended" and "well organized" fair. They met with museum curators as well as collectors from museum curator-led tours and sold work by Rodrigo Valenzuela and Vasantha Yogananthan.
David Scheinbaum of Scheinbaum & Russek said, "The whole experience has been great." He added, "AIPAD generates business all year long. You are going to get a phone call."
"We had a terrific fair at AIPAD this year with multiple sales of work by our contemporary artists," said Yancey Richardson. "We are still in conversation with several museums and serious buyers, so I am anticipating a number of additional sales to what was already a very successful fair. This year's fair was as well-attended as any I have done this year, be it Paris or Miami, and the visitors I spoke to commented that they found the quality of work in the room was very high. The Photography Show plays a critical role in educating the collecting audience about the full range of the medium, from 19th century to contemporary, and I think the audience finds it an especially rich and stimulating experience. We look forward to returning next year."
Benjamin Ogilvy Projects commented on the show's "great energy, with interested folks with enthusiastic responses." Richard Moore Photographs sold silver gelatin prints by Helen Levitt, Frederick Sommer, and Peter Sekaer. Cavalier Gallery noted that attendance "was steady from start to finish."
Some of what AIPAD exhibitors found interesting in other dealers' booths included:
--Tom Gitterman: "I thought the group of three Peter Hujar Hudson River prints at Stephen Daiter were spectacular."
--Keith de Lellis: "Michael Shapiro had an excellent selection of Bourke-Whites, Steichens, Franks, etc. Great images, great prints. And the other Michael, Hoppen had some beautiful vintage Japanese work, a major vintage Cartier-Bresson of the boy with the wine bottles (as did Stephen Daiter), among some other lovely pictures."
--Alex Novak: "As always, Hans Kraus had some lovely 19th-century work, including a wonderful Julia M. Cameron of Kate Keown as Circe; and he tempted me with a positive-negative pair by J.B. Greene of Abu Simbel. His Clarence White's The Kiss, always one of my favorite Photo-Secessionist images was oh-so-nice. On the other hand, I loved the John Cohen's at Parker Stephenson's booth, which were so electric. And the large Chuck Swedlund prints in Stephen Daiter's booth were revelatory. The Helen Levitt's in Richard Moore's booth were great bargains."
AIPAD President Mike Lee (far left) and Executive Director Lydia Melamed Johnson (far right) present the annual AIPAD Award to Mattie Boom and Hans Rooseboom, curators of photography at the Rijksmuseum. (Photo by Nicole Straus)
--Stephen Daiter: "Lovely large Roger Mayne vintage prints in Gitterman booth, good Levitt pieces in Richard Moore's booth, great cibachromes by Miguel Rio Branco in Paci, and fantastic Marcia Resnick pieces in Deborah Bell's booth."
The Association of International Photography Art Dealers (AIPAD) presented the annual AIPAD Award to Mattie Boom and Hans Rooseboom, curators of photography at the Rijksmuseum in Amsterdam. The AIPAD Award recognizes and celebrates visionaries who have spent their lives at the forefront of the field of photography. The Award was presented during the VIP Opening on March 30th.
Sidley Austin LLP, which provides a broad range of legal services to meet the needs of its diverse client base, was this year's AIPAD corporate sponsor. With over 2,000 lawyers in 20 offices around the world, talent and teamwork are central to Sidley's successful results for clients in all types of legal matters, from complex transactions to 'bet the company' litigation to cutting-edge regulatory issues.
Novak has over 45 years experience in the photography-collecting arena. He is a long-time member and formally board member of the Daguerreian Society, and, when it was still functioning, he was a member of the American Historical Photographic Society. He organized the 2016 19th-century Photography Show and Conference for the Daguerreian Society. He is also a long-time member of the Association of International Photography Art Dealers. Novak has been a member of the board of the nonprofit Photo Review, which publishes both the Photo Review and the Photograph Collector, and is currently on the Photo Review's advisory board. He was a founding member of the Getty Museum Photography Council. He is author of French 19th-Century Master Photographers: Life into Art.
Novak has had photography articles and columns published in several newspapers, the American Photographic Historical Society newsletter, the Photograph Collector and the Daguerreian Society newsletter. He writes and publishes the E-Photo Newsletter, the largest circulation newsletter in the field. Novak is also president and owner of Contemporary Works/Vintage Works, a private photography dealer, which sells by appointment and at exhibit shows, such as AIPAD New York and Miami, Art Chicago, Classic Photography LA, Photo LA, Paris Photo, The 19th-century Photography Show, etc.