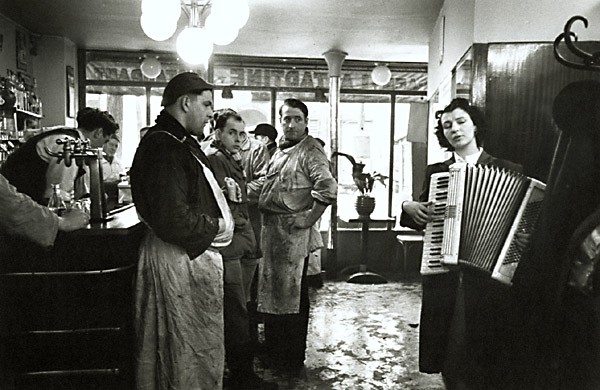 Les Bouchers mélomanes à la Tartine, porte de la villette, Paris, 1953
Boissinot-Tailliez will auction 55 early Doisneau prints on March 11th. According to the auctioneer's catalogue, the lots presented are all postwar silver prints. The size formats are 7 x 9-1/2 in and 9-1/2 x 12 in. or the reverse. Most lots are stamped either in red or purple ink and numbered in pencil by the artist, following his system of negative order.
Collectors reviewing this auction will find vintage or early prints of some celebrated portraits and images, including Coco, Tati, L'Enfer, The Bride, The Brothers, The Twins and The Butchers, together with little known variants or completely unpublished photographs. The provenance is known, two people who were friends of Robert Doisneau in the 1950s and 1960s.
Besides the Doisneau prints there are three 1960s prints of earlier images of Picasso by Brassai, as well as a nice selection of photo books, including many of the early classics by Doisneau.
The sale will be held at 22, Boulevard du Grand Cerf, Poitiers, France, on Saturday, March 11 at 5 pm. The preview will be held at this location on Friday, March 10 from 2-7 pm, and on Saturday, from 10 am-4:30 pm. The catalogue can be viewed online and and bid live at: https://www.interencheres-live.com/catalogue-eeb3e9aec4451ae78c01bc5b01508eb8.html. The commission is lower than at many French auctions these days: 21 % (buyer's premium 17.5 % + TVA 3.5 %).
There is a printed catalogue that can also be ordered. The auction house can be reached at: Telephone: +33(0)549378081; or Fax: +33(0)549371380. Or you can contact the auction expert.
The auction expert is Serge Plantureux, who will have the work for private viewing in Paris until March 8th. His office is at 80 rue Taitbout, Paris in the 9th arrond. He can be reached by phone at +33-140-16-80-80 or by email at: expertises@plantureux.fr. Serge speaks numerous languages fluently, including English, and can provide condition reports and arrange for bids.